- 07 Jul 2011, 19:52
#2262072
Nadam se da ne smeta.Ko voli i ko zna neki nek preporuci.

"BDSM: It's Not What You Think!"
The 2008 film "BDSM: It's Not What You Think!" is a half hour educational documentary about the stigma and stereotypes that surround BDSM (bondage and discipline, dominance and submission, sadism and masochism) play and its practitioners. The film was conceived of in an interdisciplinary class at San Francisco State University between the Masters in Public Health Students and the Cinema students.[1] It was designed to target an audience outside the community but has been noted to be useful to those within it as well.[2]
It should be noted also that the term "BDSM" is used to reference all aspects of the community in the film. Whether you are Leather, Kink or Fetish and do not consider yourself a part of the BDSM community, this film addresses common questions and misunderstandings faced in all of the above lifestyles.[3]-Mistral of The Triskelion Society
Belle de Jour
Belle de Jour is a 1967 French film directed by Luis Buñuel.[1] The film stars Catherine Deneuve as a woman who decides to spend her days as a prostitute while her husband is at work.
The title is the French name of the daylily (literally: "daylight beauty"), a flower that blooms only during the day, but also refers to a prostitute whose trade is conducted in daytime. The film was , based on the 1928 novel of the same name by Joseph Kessel. American director Martin Scorsese promoted a 2002 release of the film on DVD. In 2006 the Portuguese director, Manoel de Oliveira released Belle Toujours, imagining a future encounter between two of the central characters from Belle de Jour.
Bettie Page: Dark Angel
Bettie Page: Dark Angel is a 2004 film directed and produced by Cult Epics founder Nico B.
Bettie Page is played by fetish model Paige Richards. The film premiered at the San Francisco Independent Film Festival in February 2004.
Bettie Page: Dark Angel is a biopic based on the last three years of the short career of Bettie Page, a famous American 1950s pin-up and bondage model. Set in New York during 1953-1957, the film faithfully recreates six lost fetish/bondage 16mm featurettes she did for Irving Klaw. Her bondage films and photographs gave her the nickname Dark Angel and also led to a US Senate Committee investigation.
Bitter Moon
Bitter Moon is a 1992 film starring Hugh Grant, Kristin Scott Thomas, Emmanuelle Seigner and Peter Coyote and directed by Roman Polanski. The film is known as Lunes de fiel (a pun on "Lune de Miel", which is 'Honeymoon') in France. The script is inspired by a book with the same name, written by the French author Pascal Bruckner. The score was composed by Vangelis.
The Bitter Tears of Petra von Kant
The Bitter Tears of Petra von Kant (German: Die Bitteren Tränen der Petra von Kant) is a 1972 German film directed by Rainer Werner Fassbinder, based on his own play. This film has an all female cast and is set in the home of the protagonist, Petra von Kant. It follows the changing dynamics in her relationships with the other women. The film was entered into the 22nd Berlin International Film Festival.[1]
The Bondage Master
The Bondage Master (Nawa Shi Jikenbo?), also known as Rope Detective, is a 1996 Japanese V-Cinema erotic thriller directed by Hitoshi Hoshino (Jin Hoshino) and starring Yukijirō Hotaru
Colour Blossoms
Colour Blossoms
Colour Blossoms (Toh sik) is a 2004 Hong Kong art film written and directed by Yonfan, and the third in an informal trilogy of films inspired by Tang Xianzu's The Peony Pavilion. The original Chinese title of Colour Blossoms literally translates as "Peach Colour", a euphemism for sexual desire, one of the central themes in the film.[1]
Mano Destra
Mano Destra is a lesbian art film by the Swiss filmmaker Cleo Übelmann, released in 1986. In black and white, Mano Destra (Italian for "right hand") is a study of erotic objectification which depicts one woman tying up another woman in a lengthy act of consensual bondage. Made in Switzerland, the film is 53 minutes long.
Images from the film were later published in 1988 as part of a book, The Dominas - Mano Destra by the Cleo Uebelmann-Group.
The Embryo Hunts In Secret
The Embryo Hunts In Secret (Taiji ga Mitsuryō Suru Toki?), released in July 1966, is the first film made by Japanese director Kōji Wakamatsu independently of any movie studio. It was released just months after he had left Nikkatsu and formed his own company, Wakamatsu Productions.
A man keeps his girlfriend tied up in his small apartment and tortures her. She is undressed, subjected to various types of bondage, whipped, and tortured with a razor blade. He also brushes her hair, applies make-up on her, and breaks down and cries in the fetal position. In the end the girl gets free and has her revenge.
At the time of its release Wakamatsu was quoted as saying "For me, violence, the body and sex are an integral part of life"[1]
Entrails of a Virgin
Entrails of a Virgin (Shojo no harawata?) is a 1986 horror film in the "splatter-eros" subgenre of pink film.
A group of photographers and their models go to a forest retreat. They engage in S&M play and lots of softcore sex. Eventually they get picked off one-by-one by a filth-covered 'demon' with an unnaturally large penis. Most of the sex scenes are fogged.[1]
Exit to Eden
Exit to Eden is a 1994 American comedy-thriller loosely based on the Anne Rice novel of the same name, directed by Garry Marshall and adapted to the screen by Deborah Amelon and Bob Brunner. The original music score was composed by Patrick Doyle.
Dana Delany stars as Lisa Emerson (named Lisa Kelly in the book) and Paul Mercurio plays Elliot Slater. Half of the film consists of a new comedic detective story line written by the director. Several new characters were also created, including Dan Aykroyd and Rosie O'Donnell as police officers pursuing diamond thieves to the Eden resort.
Fetishes
Fetishes is a 1996 documentary by Nick Broomfield filmed at Pandora's Box, one of New York City's most luxurious SM/fetish parlours. The film contains interviews with professional dominatrices and their clients including the New York filmmaker Maria Beatty.
The documentary opens with black and white footage from an Irving Klaw film depicting models, including Bettie Page, wearing fetish attire. Nick Broomfield and his film crew then arrive at Pandora's Box on Manhattan's Fifth Avenue and are given a tour of the facility by Mistress Raven, including the dungeon and the medical room. The rest of the documentary consists of the following eight chapters:
• Slaves
• Mistresses
• Rubber fetish
• Wrestling fetish
• Corporal punishment
• Masochism
• Infantilism
• Socio-political fetishes
The film was produced in the United Kingdom and was originally made for HBO. It was released in the United States on DVD, (runtime 84 minutes, in colour), and more recently as part of Nick Broomfield's 'Documenting Icons' box set. A full, uncut version with additional archive material is also available in the UK.
The Image
The Image is a 1975 American film, re-released in an edited version in 1976. The film is also known by two other titles: The Punishment of Anne and The Mistress and the Slave and was directed by Radley Metzger. The film is based upon the classic 1956 sadomasochistic novel L'Image, written by Catherine Robbe-Grillet and published under the pseudonym of Jean de Berg.
The story of Jean (played by Carl Parker), a writer who meets an old friend, Claire (Marilyn Roberts), at a party and is soon drawn into her world of sadomasochism along with her slave, Anne (Mary Mendum, aka Rebecca Brooke, and Metzger's girlfriend at the time).
Lies
Lies ( Gojitmal) is a controversial 1999 South Korean film depicting a sadomasochistic sexual relationship between a 38-year-old sculptor and an 18-year-old high school student. It was the debut film for both of its stars; Lee Sang-hyun is a sculptor and Kim Tae-yeon, a fashion model.
The film was adapted from a South Korean novel by Jang Jung-il that was banned immediately after publication in 1996 and earned the author several months in prison; director Jang Sun-wu had previously filmed one of Jang's novels. Excerpts from interviews with the author and cast, in addition to post-cut footage, are sometimes inserted between scenes.
Maîtresse
Maîtresse is a 1976 French film directed by Barbet Schroeder and starring Bulle Ogier and Gérard Depardieu in an early role.
The film provoked controversy in the United Kingdom and the United States because of its graphic depictions of sado-masochistic behaviour, such as nailing a penis into a plank, and vagina whipping.
Olivier (Depardieu) is a small-time crook. He and a friend happen to meet a woman, Ariane (Ogier) whose plumbing needs to be fixed. They fix the pipes and learn that the landlord downstairs is away. They take the opportunity to burgle him. However they discover that in fact downstairs Ariane has a torture chamber — she is a professional dominatrix. At Ariane's request, Olivier assists her with her work and slowly becomes obsessed with her, but struggles with her sado-masochistic activities. Olivier tries to understand and take control of Ariane, whom he believes frightened in her job, however, as their love blossoms, their natural roles of dominant and submissive cannot be overcome.
Mango Kiss
Mango Kiss is a 2004 US comedy film written and directed by Sascha Rice. The movie is a love story between two lesbian friends, Lou and Sassafras. It is based on the play Bermuda Triangles written by Sarah Brown. The story for the play was based on the playwright's experience living within the lesbian subculture found in San Francisco in the 1990s.
Lou falls in love with her best friend Sassafras who doesn't know. In order to bring their careers as performance artists forward they move to San Francisco where they get into the BDSM scene. Soon they start a princess/daddy role-play: Lou plays out a Sea Captain Daddy role and Sass takes on a brat princess.
Marquis de Sade: Justine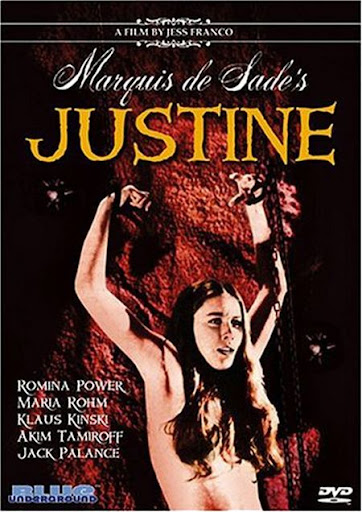 Marquis de Sade: Justine is a 1969 Italian drama film, directed by Jesús Franco and starring Klaus Kinski.[1] It is based on the novel Justine by Marquis de Sade.
The film is narrated by Marquis de Sade himself as he is in a prison and hallucinating images of naked, tortured women.
Justine, a sweet and virtuous girl lives with her sister Juliette in a nunnery. When they learn of their father's death, they are booted out of the nunnery with their father's remaining gold. Juliette takes Justine to a friend, Madame de Buission who could provide accommodation for the two girls. De Buisson turns out to be a brothel owner and requires the girls to work as prostitutes to pay for the accommodation. Justine refuses and leaves the brothel with her gold while Juliette stays and learns the arts of a prostitute. Justine meets a priest who offers to keep her gold safe and return it at the church the next day, should she reside with Monsieur Du Harpin. Du Harpin does not know the priest however, but agrees to let Justine stay for free if she agrees to serve as a maid.
Matador
Matador is a 1986 film by Spanish director Pedro Almodóvar about a student matador, Ángel Jimenez (Antonio Banderas), who confesses to murders he didn't commit. Themes include sex, death, and religion.
Diego asks Ángel if he is homosexual, noting that he is not experienced with women. Ángel says he is not and vows to prove himself. Later that day, Ángel attempts to rape Eva (Eva Cobo), a model who is both his neighbour and Diego's girlfriend. As she is leaving him, she trips in the mud and gashes her cheek. At the sight of her blood, Ángel faints.
The next day, Ángel's mother insists that he go to church as a condition of living in her home. After mass, she insists that he go to confession, but instead of confessing to the priest, he goes to the police station to confess to the rape. When Eva is brought to the station, she says he ejaculated before penetrating her and declines to press charges. Alone with the police detective (Eusebio Poncela), Ángel notices photos of dead men with the same wound administered by the woman seen during his earlier spell of vertigo. He confesses to having killed them. The detective then asks about two missing women, who were also students of Diego, and Ángel confesses to killing them as well.
Moonlight Whispers
Moonlight Whispers (Sasayaki?) is a 1999 Japanese film directed by Akihiko Shiota.[1] The film is based on the manga Gekko no sasayaki.
Boy (Takuya) meets girl (Satsuki), they fall in love. When she discovers his fetishes Satsuki brands Takuya hentai (pervert) and leaves him, only to be drawn back by the power his fetishes give her over him.
New Tokyo Decadence -The Slave
New Tokyo Decadence -The Slave (Dorei?) (2007) is a Japanese pink film directed by Osamu Satō and starring Rinako Hirasawa and Kikujiro Honda. This film was shown in Japan in 2007 and then at the San Francisco Independent Film Festival on February 7, 2009 on a double feature with S&M Hunter.[1][2][3] Rinako Hirasawa won the Best Actress award at the Pink Grand Prix 2007, and the film was chosen 9th best pink release of the year.
The Night Porter
The Night Porter (Italian: Il Portiere di notte) is a controversial 1974 film by Italian director Liliana Cavani, starring Dirk Bogarde and Charlotte Rampling.
Dirk Bogarde plays Maximilian Theo Aldorfer, a former Nazi SS officer, and Charlotte Rampling plays Lucia Atherton, a concentration camp survivor who had an ambiguous relationship with Aldorfer. Flashbacks show Max tormenting Lucia, but also acting as her protector. In an iconic scene, Lucia sings a Marlene Dietrich song to the concentration camp guards while wearing pieces of an SS uniform, and Max "rewards" her with the severed head of a male inmate who had been bullying the other inmates, a reference to Salome.
Thirteen years after World War II, Lucia meets Aldorfer again; he is now the night porter at a Vienna hotel. There, they fall back into their sadomasochistic relationship.
The Notorious Bettie Page
The Notorious Bettie Page is a 2005 American biographical film directed by Mary Harron. The screenplay by Harron and Guinevere Turner focuses on 1950s pinup and bondage model Bettie Page.
Bettie Page is an ambitious, naïve, and devout young Christian woman who longs to leave Nashville, Tennessee following a childhood of sexual abuse, a failed wartime marriage, and a gang rape. In 1949 she departs for New York City, where she enrolls in an acting class. Amateur photographer Jerry Tibbs discovers her walking on the beach at Coney Island and she agrees to model for him. He suggests she restyle her hair with the bangs that would become her trademark.
Bettie becomes a favorite of nature photographers (including Bunny Yeager, who films her posing with two leopards), and she has no hesitation about removing her clothes for the photographers when asked. Before long images of the shapely brunette reach brother-and-sister entrepreneurs Paula and Irving Klaw, who run a respectable business selling movie stills and memorabilia but also deal with fetish photos, magazines, and 8- and 16-millimeter films for additional income. Their top model Maxie takes Bettie under her wing, and she soon finds herself wearing leather corsets and thigh-high boots while wielding whips and chains for photographer John Willie, frequently at the request of Little John, a mild-mannered attorney with unusual tastes. Bettie is innocently unaware of the sexual nature of the images that rapidly are making her a star in the underground world of bondage aficionados.
Of Freaks and Men
Of Freaks and Men (Russian: Про уродов и людей; Pro urodov i lyudey) is a 1998 Russian film directed by Alexei Balabanov.
Filmed entirely in sepia tone and set in turn of the century Russia, the story is centered on two families and their decline at the hands of one man, Johann, and his pornographic endeavours. Hailed by some as a masterpiece, the movie comments on the decline of Russian society as a result of the rise of capitalism.
The Perils of Gwendoline in the Land of the Yik-Yak
The Perils of Gwendoline in the Land of the Yik-Yak (original title Gwendoline) is a French action/sexploitation film released in 1984, directed by Just Jaeckin. Gwendoline (Tawny Kitaen), accompanied by a soldier of fortune, Willard (Brent Huff), and her French maid (Zabou), journeys deep into the jungle and desert to capture a butterfly that has eluded her late father's scientific quest. They eventually discover the lost underground realm of the Yik-Yak, an all-female society ruled by a queen who plans to kill Willard after he mates with a female gladiator champion.
The film is loosely based on the bondage-themed comics of John Willie and on the figure of Gwendoline. François Schuiten worked as a graphic designer for the movie.
Severin Films has re-released the 88 minute U.S. release of The Perils of Gwendoline in the Land of the Yik-Yak and released a 106 minute Gwendoline: Unrated Director's Cut based on the French release.
Personal Services
Personal Services is a 1987 British comedy film directed by Terry Jones and written by David Leland. It is the story of the rise of a madam of a suburban brothel which caters to older men. The story is inspired by the real experiences of Cynthia Payne, the legendary "House of Cyn" madam. The film was banned in the Republic of Ireland upon theatrical release. At the time, there were four films that were banned in Ireland, and Terry Jones had directed three of them (Personal Services, Monty Python's Life of Brian, and Monty Python's The Meaning of Life).
The film stars Julie Walters as "Christine Painter", a thinly disguised Cynthia Payne, who begins the film as a sexually naive waitress and single-mother who pays for her teenage son's tuition by renting flats to local tarts. She later becomes a call girl herself (joining her friend Shirley and their "maid" Dolly) and specializes in fetish/kink roleplay with older gentlemen. With her new family of friends and admirers, she becomes a huge sensation leading to wealth and infamy in the tabloids. The brothel business also brings out Christine's self-confidence, and leads to repairing a previously strained relationship with her father.
The Piano Teacher (French: La Pianiste)
The Piano Teacher (French: La Pianiste) is a 2001 film directed by Michael Haneke, starring Isabelle Huppert and Benoît Magimel. The film is based on the novel Die Klavierspielerin by Elfriede Jelinek who received the Nobel Prize for Literature in 2004.
Erika Kohut (Isabelle Huppert) is a piano professor at a Vienna music conservatory. Although already in her forties, she still lives in an apartment with her domineering mother (Annie Girardot); her father is a long-standing resident in a lunatic asylum.
The audience is gradually shown truths about Erika's private life. Behind her assured façade, she is a woman whose sexual repression verges into full-fledged desperation and is manifested in a long list of paraphilias, including (but by no means limited to) voyeurism and sadomasochistic fetishes such as sexual self-mutilation.
When Erika meets Walter Klemmer (Benoît Magimel), a charming 17-year-old engineering student from a bourgeois background, a mutual obsession develops. Even though she initially attempts to prevent consistent contact and even tries to undermine his application to the conservatory, he eventually becomes her pupil. Like her, he appreciates and is a gifted interpreter of Schumann and Schubert.
Preaching to the Perverted
Preaching to the Perverted is a 1997 British comedy film written and directed by Stuart Urban.[1][2]
The film stars Guinevere Turner as Tanya Cheex, a New York dominatrix. Henry Harding MP is played by Tom Bell and Christien Anholt plays Peter Emery. In addition, several well-known BDSM performance artists appear:
• Chaos Clowns
• Luci The Axle Grinder, also known as Lucifire
• Miss Kimberly
• The Fetisnonn Suzi Woodroffe
• Tutu
The film was originally developed by the BBC, but they later dropped the script, believing it would never be capable of showing the movie on UK TV. However, in April 2004 the movie was shown on terrestrial TV in the UK on BBC1.
Quills
The film was banned in Ireland by then film censor Sheamus Smith.
Quills is a 2000 period film directed by Philip Kaufman and adapted from the Obie award-winning play by Doug Wright, who also wrote the original screenplay. Inspired by the life and work of the Marquis de Sade, Quills re-imagines the last years of the Marquis' incarceration in the insane asylum at Charenton. It stars Geoffrey Rush as the Marquis de Sade, Joaquin Phoenix as the Abbé du Coulmier, Michael Caine as Dr. Royer-Collard, and Kate Winslet as laundress Madeleine "Maddie" LeClerc.
Well received by critics, Quills garnered numerous accolades for star Geoffrey Rush, including nominations for an Oscar and a Golden Globe. The film was a modest art house success, averaging $27,709 per screen its debut weekend, and eventually grossing $17,989,277 internationally. Cited by historians as factually inaccurate, Quills filmmakers and writers said they were not making a biography of de Sade, but exploring issues such as censorship, pornography, sex, art, mental illness, and religion. It was released with an R rating due to some violence, horrific images, language, and nudity.[1][2]
Romance (Romance X)
Romance (Romance X) is a 1999 French movie written and directed by Catherine Breillat. It stars Caroline Ducey, pornographic actor Rocco Siffredi, Sagamore Stévenin and François Berléand. The film features explicit copulation scenes,[1] especially one showing Caroline Ducey's coitus with Rocco Siffredi. Romance inspired the trend of some arthouse films featuring explicit, unsimulated sex, such as All About Anna, Shortbus, The Brown Bunny, and 9 Songs.
When Marie's boyfriend Paul, refuses to have sex with her, she is forced to search for intimacy beyond the bounds of traditional sexual limitations, a journey that proves to be both fulfilling and empowering.
Sade
Sade is a 2000 French film directed by Benoît Jacquot, adapted by Jacques Fieschi and Bernard Minoret from the novel La terreur dans le boudoir by Serge Bramly.
The fictional story takes place during the Reign of Terror in France and centers around the Marquis de Sade (played by Daniel Auteuil) who is imprisoned on a country estate with several other noble families, all awaiting an uncertain future. The marquis relives the adventures of his youth and befriends a young woman, Emilie de Lancris (played by Isild Le Besco), whom he instructs in the secrets of love. He also works to overcome the other inmates' resistance to his libertine philosophy.
Salò, or the 120 Days of Sodom
Salò, or the 120 Days of Sodom (Salò o le 120 giornate di Sodoma), commonly referred to as Salò, is a controversial 1975 Italian drama film written and directed by Italian director Pier Paolo Pasolini with uncredited writing contributions by Pupi Avati.[1][2] It is based on the book The 120 Days of Sodom by the Marquis de Sade. Because of its scenes depicting intensely graphic violence, sadism, and sexual depravity, the movie was extremely controversial upon its release, and remains banned in several countries to this day. It was Pasolini's last film; he was murdered shortly before Salò was released.
The film focuses on four wealthy, corrupted fascist libertines after the fall of Benito Mussolini's Italy in 1944 who kidnap a total of eighteen teenage boys and girls and subject them to four months of extreme violence, sadism, sexual and mental torture. The film is noted for exploring the themes of political corruption, abuse of power, sadism, perversion, sexuality, and fascism.
Although it remains a controversial film to this day, it has been praised by various film historians and critics, and while not typically considered a horror film, Salò was named the 65th scariest film ever made by the Chicago Film Critics Association in 2006[3] and is the subject of an article in The Penguin Encyclopedia of Horror and the Supernatural (1986).[4]
Secretary
Secretary is a 2002 independent drama film directed by Steven Shainberg. It stars Maggie Gyllenhaal as Lee Holloway and James Spader as E. Edward Grey. The film is based on a short story from Bad Behavior by Mary Gaitskill.
Lee Holloway (Maggie Gyllenhaal), the socially awkward and emotionally sensitive youngest daughter of a dysfunctional family, adjusts to normal life after having been hospitalized following an incident of dangerous self-harm. She learns to type, starts to date an acquaintance from high school named Peter, and begins to work as a secretary for an eccentric attorney, E. Edward Grey (James Spader), who hires her despite her stilted social skills and unprofessional appearance.
Though at first Grey appears highly irritated at Lee's typos and other innocuous mistakes, it soon becomes apparent that he is sexually aroused by her submissive behavior. After he confronts her about her propensity for self-injury and commands that she never hurt herself again, the two embark on a BDSM relationship. Lee experiences a sexual and personal awakening, and she falls deeply in love. Edward, however, displays insecurity concerning his feelings for Lee, and he shows shame and disgust over his sexual habits. After a sexual encounter in his office, he fires Lee.
Seduction: The Cruel Woman
Seduction: The Cruel Woman (Verführung: Die grausame Frau) is a 1985 German film. The film was directed by Elfi Mikesch and Monika Treut, who both also wrote the screenplay. Wanda is played by Mechthild Grossmann. The Movie was inspiried by Leopold von Sacher-Masoch's Venus in Furs.
SICK: The Life & Death of Bob Flanagan, Supermasochist
SICK: The Life & Death of Bob Flanagan, Supermasochist is a 1997 documentary film directed by Kirby Dick about Bob Flanagan, a Los Angeles writer, poet, performance artist, comic, and BDSM celebrity, who suffered from and later died of cystic fibrosis. The film premiered at the 1997 Sundance Film Festival, where it was awarded a Special Jury Prize.
The film chronicles Flanagan for several years leading up to his death in 1996. It explores various aspects of his life, artwork, and philosophy through interviews and other personal footage depicting Flanagan, his partner Sheree Rose, and the Flanagan family. SICK also features Flanagan's home movies, performance videos, and video diaries, as well as an excerpt of Flanagan's performance in the music video for "Happiness in Slavery" by Nine Inch Nails.
In the film, Flanagan explains his use of BDSM for sexual gratification and also as a therapeutic device to regain control over his body from cystic fibrosis. He discusses his conceptual, performance, and video art, which often relates to pain, illness, medicine, and sexuality. Flanagan also serves as a camp counselor for children with cystic fibrosis and meets with a young woman who suffers from cystic fibrosis and who visits him under the auspices of the Make-A-Wish Foundation.
SICK details Flanagan's lifelong struggle with cystic fibrosis, as well as his eventual death. Flanagan had agreed to participate in the film under the condition that his death be included in the final project.[1]
Spanking Love
Spanking Love Ryō Masuda (Toshio Kakei) is a SM movies director who asks a woman he meets on a crowded street to star in one of his films. The woman, Yumi Sakata, accepts on a whim but her expressive features—in particular, her eyes—make that particular low-budget production into an unexpected hit. Ryō is attracted to her but feels there is something dangerous or evil about her and doesn't want to have anything more to do with her. However, it isn't that simple.
Ryō's girlfriend, Mayumi, is a dominatrix who services a very powerful man. Mayumi's client, Mr. Okonogi, wants Yumi to work in an S&M show club he owns. Mayumi fears she may be "sacrificed" if Mr. Okonogi doesn't get want he wants and she begs Ryō to find Yumi and persuade her to go to the S&M club.
is a 1995 Japanese erotic film directed by Shōji Tanaka and based on a story by Kenichi Yamakawa.
Story of O
Story of O (French: Histoire d'O, IPA: [istwaʁ do]) is an erotic novel published in 1954 about love, dominance and submission by French author Anne Desclos under the pen name Pauline Réage.
Desclos did not reveal herself as the author until four years before her death, forty years after the initial publication. Desclos said she wrote the novel as a series of love letters to her lover Jean Paulhan,[1] who had admired the work of the Marquis de Sade.
Swept Away
Swept Away (full English title: Swept Away by an Unusual Destiny in the Blue Sea of August, full Italian title: Travolti da un insolito destino nell'azzurro mare d'agosto) is a 1974 Italian film written and directed by Lina Wertmüller. It is a study in romance and class warfare.
The movie stars Giancarlo Giannini as long-abused crewmember Gennarino Carunchio, toiling on a yacht rented by a wealthy couple, Raffaella Pavone Lanzetti (Mariangela Melato) and Mr. Pavone Lanzetti (Riccardo Salvino). A beautiful, wealthy, spoiled woman, Raffaella takes endless pleasure in verbally abusing Gennarino over nearly everything, but especially about his Communist politics. When an unusual event at sea leaves Gennarino and Raffaella cast away on a deserted Mediterranean island, the tables are finally turned and the Communist sailor suddenly has the upper hand in the relationship.
Terrifying Girls' High School: Lynch Law Classroom
Terrifying Girls' High School: Lynch Law Classroom (Kyōfu joshikōkō: bōkō rinchi kyōshitsu?) is a 1973 Japanese film in the sukeban (delinquent girl) sub-genre of Toei's "Pinky violence" style of Pink film. The second in the Terrifying Girls' High School series, this was the last entry in the series directed by Norifumi Suzuki and to pair Reiko Ike and Miki Sugimoto. It is notable as the first film to depict an omorashi fetish scene to a theatrical audience.
Tie Me Up! Tie Me Down!
Tie Me Up! Tie Me Down! (Spanish: ¡Átame!) is a 1990 Spanish film written and directed by Pedro Almodóvar, a dark romantic comedy starring Antonio Banderas and Victoria Abril. The plot follows a recently released psychiatric patient who kidnaps an actress in order to make her fall in love with him. He believes his destiny is to marry her and father her children.
The film was highly successful with both critics and audiences in Spain.[1] Its release in the United States was entangled in controversy. It was instrumental in the implementation by the MPAA of a new rating category, NC-17, for films of an explicit nature that were previously unfairly regarded as pornographic because of the X rating.[2]
Tokyo Decadence
Tokyo Decadence (Topāzu?) is a 1992 Japanese film. The film was directed by Ryu Murakami with music by Ryuichi Sakamoto. The film stars Miho Nikaido and is known by two other titles, Topaz, Sex Dreams of Topaz[citation needed]. It has been banned in Australia[1] and South Korea. Shimada Masahiko appears in the film.
A timid Japanese college girl, Ai (愛?, lit. "love"), works as a light SM/bondage girl for hire within a world of lavishly wealthy Japanese men in Tokyo.
The first two-thirds of the film consists in large part of four sex sequences. Two involve dildos and mirrors—one with the man dominant, one with the female dominant. The other two involve erotic asphyxiation with, again, one episode in which the man wants to partially asphyxiate a female and the other in which a man is the recipient. Other sexual acts and interests are involved in some of the scenarios.
Wife to be Sacrificed
Wife to be Sacrificed ( Ikenie Fujin?) (1974) is a Japanese soft-core pornographic S/M film starring Naomi Tani and directed by Masaru Konuma. The film was produced by Nikkatsu studios as part of their Roman Porno series.
A Woman in Flames
A Woman in Flames (Die Flambierte Frau, literally "The Flambéed Woman") is a German drama film from 1983, directed by Robert van Ackeren, starring Gudrun Landgrebe, Mathieu Carrière, and Hanns Zischler. The running time is (104 minutes).
Eva, an upper class housewife, becomes frustrated and leaves her arrogant husband. She is drawn to the idea of becoming a call girl. With the aid of a prostitute named Yvonne, Eva learns the basics and then they both set out looking for Johns together. She meets a charming man who she falls in love with and comes to his house late at night for a romantic tryst. He turns out to be a gigolo. Consequently, they move into his penthouse, large enough for both of them to offer their services separately.
Then slowly Eva enters the world of sado-masochism. She finds being a dominatrix extremely satisfying, and begins to take pleasure in controlling others and causing them intense pain. She discovers this in a scene in which a man is hiding under a table. Eva can see that his hands are sticking out from under the table and are clearly visible. Coldly, and with intense inner satisfaction, Eva proceeds to crush the man's hands by slowly walking over them with her stiletto-heeled boots