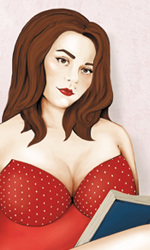 - 30 Jan 2010, 05:47
#1767571
(prepisano sa
http://www.butch-femme.com/portal/forum ... hp?t=18279
)
...the belt.
...more marks.
....and than some more marks.
Lovely colours of blue and green and red.
Did I say belt?
And than some more belt.
Miris koze.
I najvise od svega, onaj trenutak kada me ljubavnica pogleda "onim" pogledom i ja skapiram da moze svasta da bude, i za taj jedan divan sekund, se istinski uplasim.
E, to, bas to ocu sada odma sada odma.