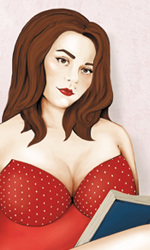 - 03 Apr 2009, 02:31
#1434036
Jedan od retkih filmova u kome protagonisti koji zive BDSM ne zavrsavaju u instituciji ili ubijeni, ili nisu predstavljeni kao "bolesnici" vec kao ljudi koji zive zivot malo drugacije, nalazeci slobodu kroz svoje zelje.
Gledali?
Ako niste, its a must

http://www.imdb.com/title/tt0274812/
Jedno vreme mi je i avatar bio poster sa filma

Na imdb-u postoji citava BDSM zajednica koja se okupila kroz fanbase ovog filma.
"Secretary is the first of its kind - a very dark love story. First of its kind in that it deals with themes never seen before seen in mainstream Hollywood cinema - S&M, sexual dominance and submission."
Film razbija mnogobrojne predrasude, izmedju ostalog da je BDSM-u mesto u hororima, da to ne moze da funcionise...
Ima mnogo dobrih dijaloga i scena, a meni je najjaci kraj i jedan dijalog izmedju nje i njega:
on-We cannot do this...
ona-Why not?
to mi negde sumira ceo neki trip....